Von der Leyen has become boring with her cheap shots at Beijing
Share - WeChat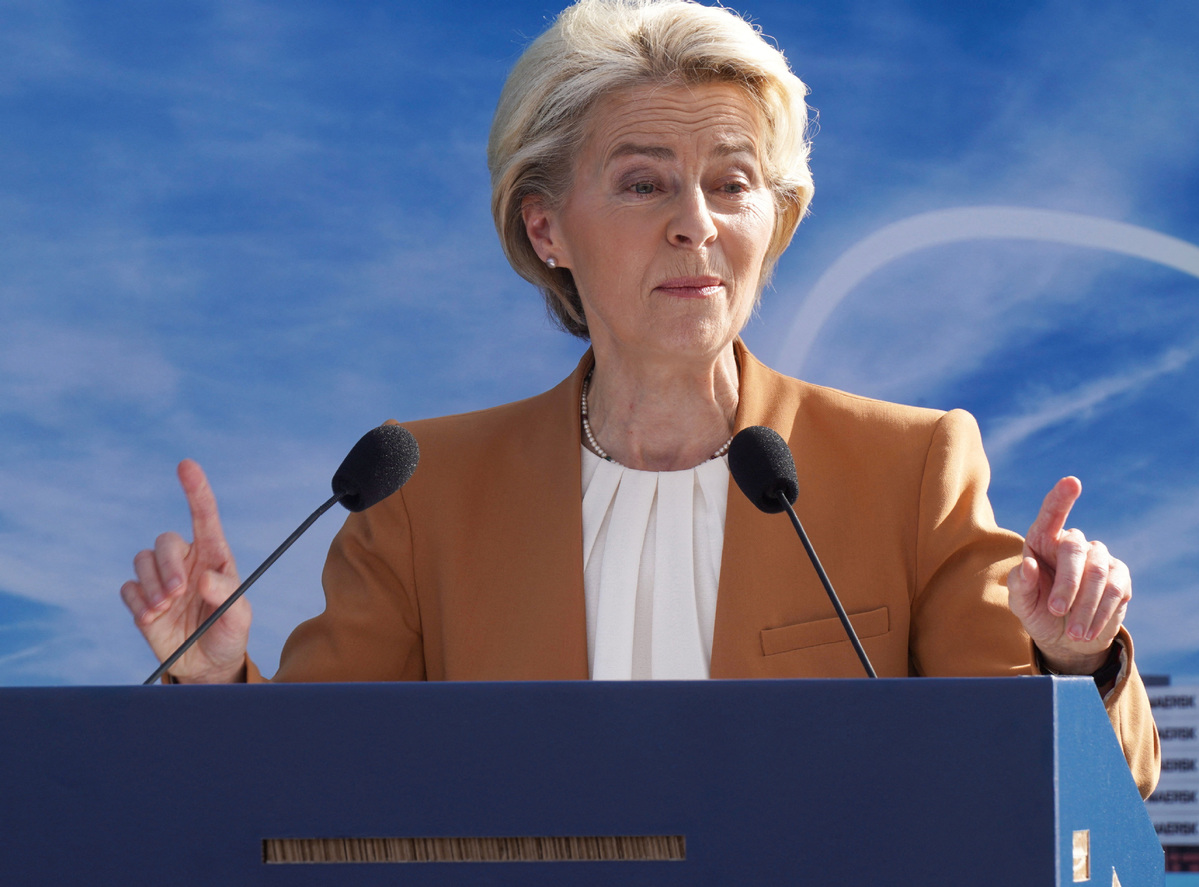 In an article on Wednesday, hours before European Commission President Ursula von der Leyen delivered her fourth and last State of the European Union address at the European Parliament in Strasbourg, the Politico predicted what she would say. In fact, the headline of the article, "Why EU speeches are so damn boring", said it all.
Indeed, few people can remember what she said during an hour-long self-congratulatory speech, except her announcement to launch an anti-subsidy investigation into Chinese electric vehicles (EVs) and some cheap shots she took at China, targeting items such as solar panels, gallium and germanium.
Like some US politicians, von der Leyen used China as a bogeyman to score political points. She accused China of "unfair trade practices" that "affected our solar industry", saying "global markets are now flooded with cheaper Chinese electric cars".
The Chinese government is not the only one supporting the electric vehicles. Under the Inflation Reduction Act it passed a year ago, the United States is providing massive subsidies, worth $369 billion, to US-made EVs and clean technologies. The EU passed its Green Deal Industrial Plan to counter the US' move by relaxing government aid rules, allowing more subsidies and tax benefits.
But von der Leyen did not even mention the US' Inflation Reduction Act despite the fact that the EU has been criticizing it for causing an exodus of European businesses to the US.
Von der Leyen also proved right another Politico article published in October 2022 and headlined "Europe's American president".There has been much talk in Brussels about her being too pro-US. The double standard and hypocrisy she exhibited on Wednesday are nothing new either.
Most industry experts agree that China has a head start in EVs, in both cars and battery, an advantage the US and most EU countries don't have. The advantage is the result of China's determination to transition to green and sustainable development and its political will to achieve carbon neutrality before 2060.
Besides, China's EVs could help other countries achieve their climate goals of peaking carbon emissions and realizing carbon neutrality by the promised years, as well as the EU's goal of banning the sale of new petrol-powered cars by 2035.
In that sense, the EU's announcement of an anti-subsidy probe into Chinese EVs could seriously undermine the global fight against climate change. There is no doubt that seeing more Chinese EVs in the EU is so much better than seeing European fossil fuel cars flooding the Chinese market on a much larger scale.
China's achievements in EVs, as displayed by BYD, Leapmotor and CATL at the IAA Mobility auto show in Munich early this month, have been widely applauded. German Chancellor Olaf Scholz, who inaugurated the show, welcomed Chinese EV makers instead of demonizing them like von der Leyen.
To von der Leyen, if China leads in anything, it must have reached the leading position through unfair practices. If that argument doesn't stand, it must pose a national security threat just like when she fearmongered about Huawei's 5G technology two years ago under Washington's coercion. In fact, Huawei 5G technology poses no more "security threat" than those by Nokia and Ericsson.
In February, the European Commission announced a ban on the use of TikTok, owned by Chinese company ByteDance, on the commission's official devices despite other popular social media platforms such as Facebook and Instagram posing the same so-called threat.
Von der Leyen's anti-China mindset is also reflected in her mention of the EU's Global Gateway, which she often praises as a tool to counter China's Belt and Road Initiative. In doing so, she has prompted the EU to turn Africa into a geopolitical battleground rather than building roads and bridges in African countries to promote the continent's development.
Such a mindset is not just boring, but racist as well, and will undermine global cooperation and development.
The author is chief of China Daily EU Bureau based in Brussels.
If you have a specific expertise, or would like to share your thought about our stories, then send us your writings at opinion@chinadaily.com.cn or comment@chinadaily.com.cn.
Most Viewed in 24 Hours
China Views