Proud of Chinese EV makers at Munich show
Share - WeChat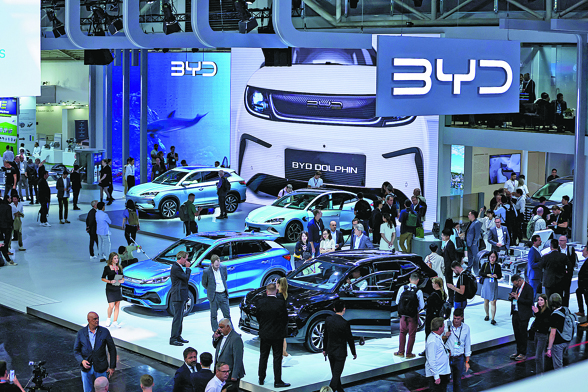 I was never a car enthusiast. In fact, I was one of the few anti-car persons 20 years ago and even promised in a column that I would be the last person in my city, Shanghai, to buy a car. It was largely the severe air pollution and traffic congestion at the time due to the growing number of vehicles on the roads which contributed to my indifference to cars.
However, I volunteered to cover the IAA Mobility in Munich in 2021, the first auto show I ever visited. The concept of electric vehicles (EVs), which help reduce carbon emissions and promote sustainable growth, is attractive against the backdrop of the daunting challenge posed by climate change.
This is the second time I am covering the IAA Mobility, which opened on Monday and will conclude on Sunday. Unlike the last one, Chinese EV manufacturers such as BYD, Xpeng, Leapmotor and HiPhi are the real stars — compared with even global giants such as Volkswagen — of the ongoing show.
Volkswagen was the first foreign carmaker to set up shops in Shanghai in the 1980s. I still remember Martin Posth, then general manager of Shanghai Volkswagen, was regarded as a hero and highly respected by then city mayor Zhu Rongji, who later became China's premier.
Chinese carmakers have learned a great deal from their cooperation with European, US and Japanese automobile giants over the past decades. But the EV technology they have developed in the past two decades is a miracle. China is now the world's largest car manufacturing country and the largest market. This is also true for EVs.
I still remember the late Seiji Naya, a professor of economics who served as chief economist at the Asian Development Bank, saying in the early 1990s that China didn't need to make cars; it could just import them from Japan. I argued that if the Republic of Korea had followed the same advice, it would have never developed its own auto industry. That said, he was a great person and I learned a lot in his class.
Over the past decades, many foreign carmakers have found a lucrative market in China. General Motors sells more cars in China than in the United States. Volkswagen, Mercedes Benz and BMW depend on China for a third of their sales. And Volkswagen announced in April that it will invest $1.1 billion in an EV development and business center in Hefei, Anhui province.
The business leaders I talked to at IAA Mobility all laughed at the "decoupling" and "de-risking" nonsense that some politicians have been indulging in. They want to continue to invest in China instead of reducing their presence in the market of 1.4 billion consumers.
However, fearmongering about China's EVs is a serious concern. US Senator Marco Rubio and Congressman Mike Gallagher have been leading the "protests" to prevent Chinese EV manufacturers and battery giant CATL from entering the US market. They also led the charge to foil Ford's plan to build a $3.5 billion battery plant in Michigan using technology from CATL.
US politicians used the same fearmongering and coercion to ban Huawei in the US and some European Union countries. However, German Chancellor Olaf Scholz has displayed a healthy mindset by welcoming Chinese EV makers to the IAA Mobility and called the growing competition from Chinese carmakers a good thing to "spur us on, not scare us".
Scholz said "the countries that have achieved great prosperity in the course of globalization, the workers there, have no less right and no less claim to the opportunities of modernity than we do".
China is now a global leader not just in EVs, but also in solar and wind power technology and manufacturing, as well in high-speed railways, container ports and subway systems. These are great achievements for not only China but humankind as a whole, and a big contribution to the global efforts to overcome the common existential challenge of climate change. Today's world simply has no room for new Cold War-type fearmongering.

The author is chief of China Daily EU Bureau based in Brussels.
Most Viewed in 24 Hours
China Views